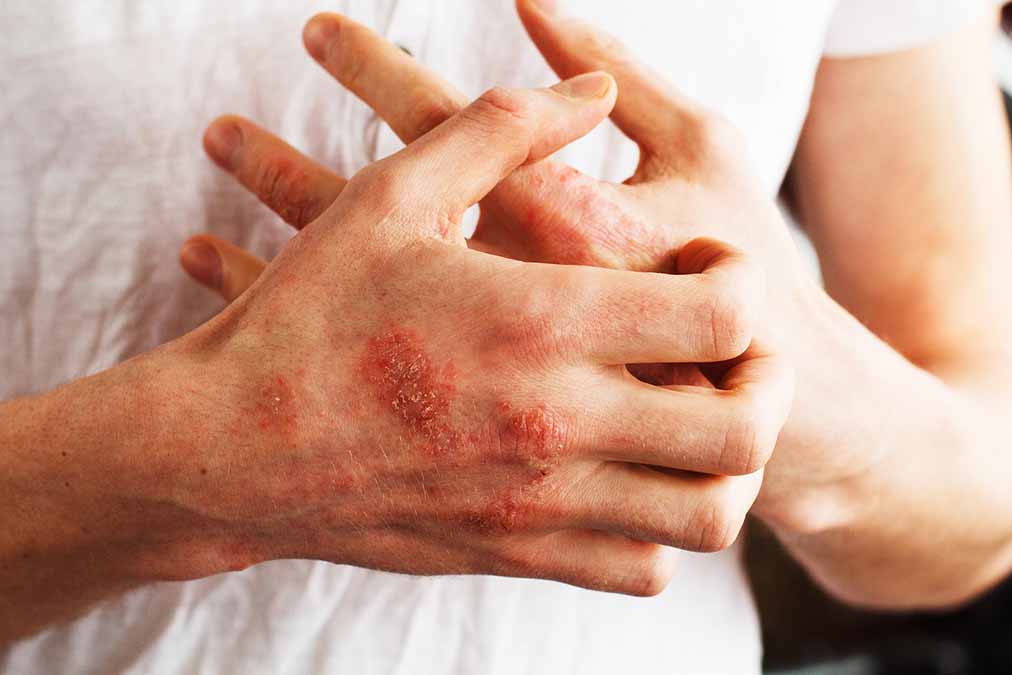 Most people think of psoriasis as annoying skin disease, nothing worse than that, and certainly not something that could be fatal.
But a new study reveals psoriasis can lay the groundwork for something that might kill you.
In July 2019, British scientists presented an eye-opening study at the British Association of Dermatologist's 99th Annual Meeting in Liverpool. It shows that people who suffer from psoriasis are more likely than the general population is to develop certain types of cancer.
The study is not yet available for us to analyze properly, but we expect to be able to do that soon when it appears in the American Journal of Managed Care.
The new study was a literature review. It looked at 50 previous studies on the relationship between psoriasis and cancer. Altogether, the surveyed studies had 919,883 subjects in nine different countries.
People with severe psoriasis had a 22 percent higher risk of developing all cancer types. When those with all different severities of psoriasis were included, the increased risk dropped to 18 percent.
People with severe psoriasis were 7.7 times more likely than the general population to have squamous cell carcinoma, which can occur almost anywhere in the body. They were also 3.4 times more likely to have lymphoma, and 3.17 times more likely to have basal cell carcinoma.
When subjects with all severities of psoriasis were included, they found a 2.8 times higher risk for oral cavity cancer, a 2.15 times higher risk of squamous cell carcinoma, and a twofold risk in esophageal cancer.
There were also smaller increased risks for liver, laryngeal, keratinocyte, pancreatic, colorectal, and colon cancers, plus lymphoma, regardless of how severe the psoriasis was.
So why is this happening? Well, it's not well understood at this stage, but at least two obvious reasons are known.
Psoriasis causes chronic and systemic inflammation, which means that it's everywhere in your body. Inflammation can cause small benign tumors to get bigger and become cancerous.
Those tiny tumors often die of starvation, but if your immune system feeds them with inflammatory cells then they thrive.
Once inside a tumor, they call more immune cells which causes more inflammation and, even worse, they call molecules called cytokines. These build new blood vessels to nourish the tumor, and so it balloons.
Secondly, many people with psoriasis take drugs to suppress their immune systems and turn down the inflammatory response. But if you suppress your immune system, it can't do all its jobs properly, and one of those jobs is fighting tumours.
That's why it's so important to get the inflammation of this skin condition under control. You need to drop alcohol, smoking, and foods that can all contribute to the development of inflammation and cancer.
Even after years of discomfort, psoriasis isn't inevitable, and neither are the cancers it can cause. You can put the misery of psoriasis behind you when you tackle the underlying cause…