Blue Heron Health News is a leading company in the natural health field, focusing on the chronic diseases that plague people mostly over the age of 45. We publish daily articles and newscasts on alternative methods of managing chronic diseases without having to suffer the side effects of medications.
Our readers are independent people with a strong "do-it-yourself" attitude. Our core readers come from the big baby-boomer generation, and are evenly distributed between males and females.
Founded in 2008, Blue Heron Health News has a list of loyal email subscribers – about 200,000 individuals – 130,000 unique visits and 400,000 page views per month.
Over 70% of our visitors are regular readers.
The following data are based on numbers quantified by quantcast.com. Please request access to our data only if you're serious about advertising on our site:
Our Average Reader:
Gender: evenly divided
Age: 50–70
Kids: no kids at home
Annual Income: $100K–$150K
Education: college degree
Ethnicity: Caucasian
Traffic by Country:
USA: 58%
Canada: 9%
UK: 10%
Australia: 4.5%
Others: 21.5%
We Offer Two Types of Advertises:
Banner Ad Above Articles:
Where will your ad appear? Above the folder, directly above the tittle of the article. It's therefore the first thing your target audience see when they load the page.
We offer this ad in 25% impressions unites. Each unite is $750/month
Size: Leaderboard, 486 x 60
Please contact us for more information and to place an order.
Example: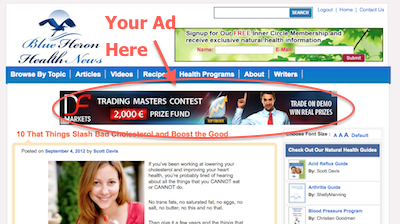 In Daily Newsletter Announcement Email:
Where will your email/newsletter ad be placed? Our daily email newscast contains a few "article teaser" paragraphs followed by a link to today's article. Your ad will be located directly under that link, therefore extremely well visible for your target audience.
Only ONE ad is placed in each email so you've complete exclusivity. No packing an ad over an ad like in other newsletters. This boosts your click-through-rate and multiplies your conversion.
Each newsletter blast is $650
Size: Medium Rectangle, 300 x 250
Please contact us for more information and to place an order.
Example: