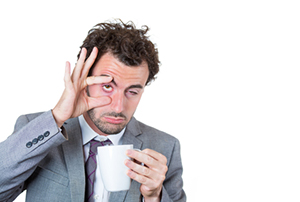 Have you ever been trying to get a job done and you keep getting interrupted? Does the quality of the work then suffer?
This analogy helps explain new research tying a specific sleep pattern to the onset of type 2 diabetes.
Many factors can contribute to whether or not a person will develop type 2 diabetes, most notably being overweight or obese, a diet high in sugars and refined carbs, or other metabolic disorders like high cholesterol and high blood pressure.
But some people are at increased risk even if they are at a healthy weight and their diet is fine.
Researchers at the University of Chicago recently released the results of a study looking at the relationship between lack of sleep and the increased risk of developing type 2 diabetes.
When the body experiences chronic sleep deprivation, regardless of whether it's insomnia-related or outside factors waking a person, diminishing his or her quality of sleep, the body responds to the threat by cranking out an increase in fatty acids.
These fatty acids are a direct cause of oxidative stress throughout the body, and can wreak havoc on the beta cells in the pancreas, interfering with its ability to produce insulin.
As well, like an annoying 'co-worker' (everyone has one- they don't really work but are instead a drain on resources) who constantly interrupts your work, causing you to make mistakes and not get tasks done, these fatty acids interrupt insulin's job of regulating blood sugar levels.
Insulin is there, trying to work, and fatty acids are throwing up road blocks, making the hormone less effective.
The study looked at men, divided into groups who either got optimum sleep or who had various levels of sleep deprivation. What they found was that the levels of the interfering fatty acids rose sharply in the sleep-deprived group, and stayed elevated for many hours.
They noted that as long as the fatty acids remained high, the men's ability to regulate insulin remained impaired.
Stop the sleep-deprived cycle now. Sleeplessness is another thing that leads to a host of complications. The good news is that thousands of readers have used this simple method to fall asleep in 24 minutes or less…
Type 2 diabetes already diagnosed or very nearly there? Reverse it naturally with this simple strategy I created to help cure my mother, and it took less than 30 days, without drugs…