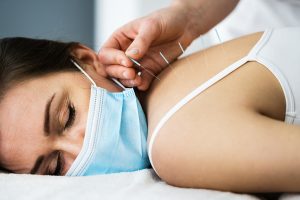 Western medicine has no cure for neuropathy. Yet most western doctors will frown on the idea of using an old Eastern medical approach to treat it.
That is, except for a team of German and Chinese scientists that decided to put this ancient approach to a test, with amazing results, as presented in this new study published in the journal Phytomedicine.
Best of all, this ancient approach has been gaining such momentum lately that you're very likely to find this treatment option close by.
The researchers recruited 60 subjects with neuropathy from the HanseMerkur Center for TCM at the University Medical Center, Hamburg-Eppendorf.
They were physically examined, asked for their subjective experiences of their neuropathy, and then objectively evaluated via nerve conduction studies. The latter is a measurement of the speed at which electrical impulses move through nerves and is the best way to evaluate nerve damage.
They divided them into two groups: group 1 received acupuncture for 10 weeks whereas group 2 waited for the treatment. Both sides were evaluated after 14 weeks.
The two groups then swapped, with group 2 receiving the treatment. Both groups were then again evaluated after 28 weeks.
The acupuncture consisted of ST34 Liangqiu (a muscle above the knee), EX-LE12 Qiduan (at the tips of the toes), and EX-LE8 Bafeng (various spots on the foot) performed on both sides.
They found the following differences between the treatment and non-treatment periods:
1. There was an improvement in the speed at which electrical impulses move through the subjects' sural nerves (a large nerve that runs from the knee to the foot on the calf).

2. The subjects reported an improvement in pain, cramps, numbness, frequency of symptoms, and unsteadiness of gait.

3. Based on a physical examination, the treatment group scored better on tests such as heel-to-toe walking.
This is not only a well-designed scientific study, but it is also thorough in the three ways in which it measures improvement.
In fact, this is the first ever study to use nerve conduction studies to measure the improvements in nerve function in response to acupuncture.
Now, whereas acupuncture does ease neuropathy pain, it doesn't seem to heal it. Thousands of readers have, however, permanently healed themselves of neuropathy using the simple, natural steps explained here…