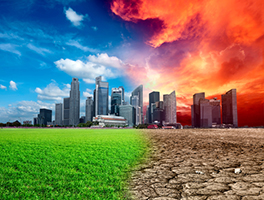 While this sounds like a peculiar question, we all understand that we feel different on hot than on cold days. This is because environmental temperature affects how our bodies operate.
In the past, researchers have established that the weather accounts for most fluctuation in hospitalizations, and even that people with certain diseases were more likely to die on particularly cold or hot days.
But the question about type 2 diabetes was kicked off primarily by studies that found that a key diabetes indicator is more active in hot weather than in cold.
A growing number of studies is showing brown adipose tissue, the medical term for brown fat, was more active in cold than in hot weather.
Brown fat is usually contrasted with white fat, with the latter being the cells in which excess food is stored, and the former being the cells that burn large amounts of fat to produce heat.
As such, brown fat is often called good fat, while white fat is called bad fat, because brown fat reduces your stored white fat.
The studies discovered that researchers could activate brown fat by making their study participants live in lower temperatures.
In a 2013 study, scientists made 31 healthy volunteers spent 36 hours in 24°C and another 36 hours in 19°C.
After each period, they tested their subjects' brown fat activity, finding that a five-point drop in temperature can increase the activity of brown fat by around 10%.
This leads to interesting conclusions about the relationship between diabetes and ambient heat.
Based on the conclusion that lower temperatures activated brown fat, researchers wondered whether higher temperatures deactivated brown fat and thereby put people at risk of excessive fat storage and its accompanying drop-in insulin sensitivity.
Considering most of the studies' data together, evidence shows a 1°C rise in temperature can bring about over 100,000 new cases of diabetes per year in the United States.
It takes a long time to increase global temperature in this way, but ending diabetes doesn't have to. Find out how my mother – who nearly died from type 2 diabetes – was able to reverse it completely in less than 30 days…