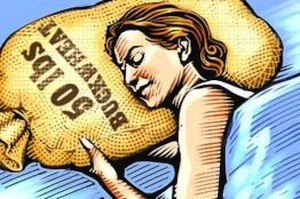 Looking for an easy-to-eat food that fixes high blood pressure, dangerous cholesterol and diabetes, all at the same time?
It seems too good to be true since "magic bullet" foods are generally kind of unpalatable and hard to find.
However, today we will look at a grain that is simply amazing because of the incredible knockout punch that it delivers to disease, and also because it boosts immunity as well.
Most doctors and nutritionists will recommend adding whole grains to your diet if you are suffering from diabetes, high blood pressure, and unhealthy cholesterol levels.
But what if you can't have gluten?
Or what if you're trying to give the whole "macro" diet (wholly uncooked foods only) a fair shot and need a grain that doesn't need to be cooked?
Chances are, then, if you fall into these categories that you already know about the power of buckwheat.
Buckwheat isn't actually wheat at all. It's a seed. And what an amazing seed it is.
This little food is so packed with nutrients and healthful benefits that it just boggles the mind that more people don't include it in their diets.
In today's feature, we'll look at the benefits and then look also into some of the ways people like to eat it.
Buckwheat is considered a fruit grain, but has all the benefits of actual cereal grains. It is packed with a host of vitamins and nutrients, and because it can be eaten without processing, almost all of them find their way to your body's systems because they don't perish in a cooking or preparation process.
Because of its very high concentrations of magnesium, tryptophan, and manganese, buckwheat is an excellent grain for those with heart disease, high blood pressure, or other circulatory diseases. These nutrients are generally lacking in most Western diets, so this fits the bill nicely.
It is also very high in fiber, which is the golden pass to cholesterol bliss. It can be difficult to get enough fiber in the diet, especially if you aren't a fan of raw vegetables or just gag at the thought of choking down another bran muffin.
Because it also is a super food in that it has a very high concentration of antioxidants, buckwheat is a great weapon against inflammation that leads to diabetes.
And here's a little-known fact… buckwheat has a pretty high concentration of copper, which is essential in the utilization of iron, connective tissue health, and healthy cell growth. These fountain-of-youth benefits make buckwheat an easy choice.
Buckwheat can be found in almost any health food store, and because of its growing popularity, is finding its way onto commercial grocery store shelves as well.
As far as serving size goes, you can eat as much or as little as you want, although it is recommended to eat about 5 to 10 ounces a week.
You can eat the seeds raw or roasted. You can even soak them and let them sprout, and then toss them in salads, sprinkle over pizza, mix into soup, add to a fruit bowl for crunch, or blend in a smoothie.
Because they have a very mild, almost unnoticeable taste, people put seeds and sprouts in everything from entrees to desserts. And because most buckwheat that you find at health food stores is going to be without genetic modification, you can rest easy that you are eating a whole food that will do your body a world of good.
Another way to simply and easily drop your blood pressure to normal in just minutes a day- without drugs. Learn how these 3 easy exercises drop blood pressure below 120/80 in as little as 9 minutes…
Reverse type two diabetes in less than 30 days, in 3 easy steps..…
Follow this step-by-step plan to get your cholesterol completely under control in less than a month…
But first, let us know what you think. Do you use buckwheat? Do you have a great recipe to share? Please leave your comments below.