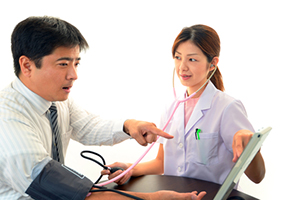 A study published in the Journal of American Medical Association reveals something really shocking.
It is a common practice to treat stroke patients with medications to bring down the blood pressure. But apparently this is not a really advisable practice at all.
The study was performed in China on patients who suffered from ischemic stroke, the most common type of stroke that affects more than 85 percent people.
About 4071 people participated in the study and half the patients were administered medications to lower blood pressure within 48 hours of suffering the stroke, whereas the other half were allowed to remain without medications.
It was found that about equal number of individuals in both the groups suffered major disability or death from stroke. The medications administered during the critical period after stroke seemed to confer no special advantage or difference.
After a patient recovers from a stroke, the high blood pressure declines naturally over time, and without any treatment or medications. Medications are not ideal to lower blood pressure after stroke, because they act fast and lower blood pressure very quickly, whereas it is more optimal for the recovery of the patient if the blood pressure declined slowly and naturally.
The reason? When blood pressure is lowered suddenly, it affects the flow of blood to the brain, and this can be dangerous. For a good recovery from stroke, it is vital that the patient receives adequate blood to the brain.
A researcher in the team mentioned that long term effects of stroke that need to be studied not only include disability and death but also cognitive impairment which can have a significant effect on the lifestyle.
What we can learn from this study is that our body knows better than drugs do. And although it's essential to bring your blood pressure down, it's even more important to do it in a natural way that works WITH your body, not by forcing it.
Our 3 simple blood pressure exercises work with your body to bring your blood pressure down… in just 9 minutes. Check them out and test-drive them online here…