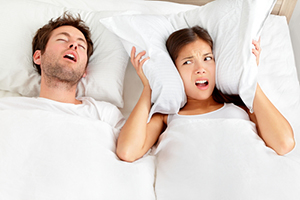 So, you snore a little, what's the big deal?
Maybe your partner mentioned how you sometimes gasp for air in the middle of the night. Easy to brush this under the carpet.
No… pay close attention. Because this may be a sign of sleep apnea… a mild case of sleep apnea but nevertheless, extremely dangerous.
Because even a very mild case of sleep apnea can cause serious diseases as proven in a new study from The College of Medicine at Penn State University.
The scientists started from the proven fact that people with severe sleep apnea are more likely than the general population to suffer from high blood pressure, insulin resistance, glucose intolerance and type 2 diabetes.
They then decided to conduct two separate studies on the same sample of people to establish whether mild and moderate forms of sleep apnea can also cause these conditions.
They analyzed the health information of 1,741 randomly chosen American adults collected by the Penn State Adult Cohort Study.
At the beginning of the study, participants were asked to sleep in a sleep clinic for one night to analyze their sleep quality.
Those who were free of hypertension and diabetes were then observed for the next 10 years to see which of them would develop these conditions.
They found that those with mild sleep apnea were four times more likely than their peers to develop hypertension and three times more likely to develop type 2 diabetes than people with no sleep apnea signs.
This is a clear indicator that you need to take action even if your sleep apnea is mild or even if you just snore loudly.
The good news is the easy throat, jaw and tongue exercises, found here, can cure even severe sleep apnea in as little as 3 minutes per day…