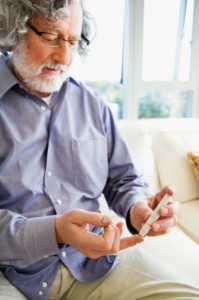 Too much blood sugar is bad for the brain, according to a research team from the Beth Israel Deaconess Medical Centre. In this study, adults with poorly controlled type 2 diabetes had significantly higher levels of two proteins –known as sVCAM and sICAM – that impair brain function and promote brain cell death.
The scientists note that adults with diabetes that keep blood sugar under wraps may be doing a favor for their brains –significantly reducing their risk of Alzheimer's, depression and cognitive decline.
Lower blood sugar naturally – for type 2 diabetics- in just 21 short days…
But first: What did you think of this article? Do you have a personal experience related to this? Please leave a comment and join the discussion in the Facebook Comment section below.
And I'd really appreciate it if you also click the Facebook button above to share this articles with your friends.