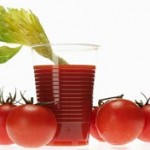 Tomato juice helps prevent heart disease – especially for type 2 diabetes (who have high risk of heart attack). This is a result of a study published in Journal of the American Medical Association. Group of people were given 250ml of tomato juice daily. The amount of platelet aggregation (a great indicator of heart attack risk) decreased whooping 27% in only three weeks.
More info on healing…
But first, I'd really appreciate it if you click the Facebook button above to share this articles with your friends.