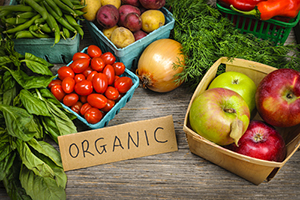 Eating organic is expensive and often difficult to manage (you're not spending as much time at McDonald's). But is it worth it?
A new study from The Swedish Environmental Research Institute put this question to the test, having a family of five switched completely over to organic.
What happened immediately was astonishing!
This was a typical Swedish family who very rarely ate organic. But with the support of The Swedish Environmental Research Institute and a supermarket chain, for two weeks they switched everything to organic.
That included food, cleaning products, all hygiene products, and even the father's chewing tobacco.
Before switching, urine examples were taken daily, for a week, from every member of the family. The same procedure continued during the two weeks organic.
In the beginning, and unbelievable amount of pesticides and other chemicals were found in the samples. That included: 2,4-dichlorophenoxyacetic acid (herbicides), Atrazine (herbicide), Boscalid (fungacide), Chlormequat chloride (CCC) and mepequat (growth inhibitors), Chlorpyrifos (insecticide), Ethylenebisdithiocarbamates (fungicide), MPCA (herbicide), Pyrethroids, such as cypermethrin and esfenvalerate (insecticides), Propamocarb (fungicide), Thiabendazole, iprodione, diuron, vinclozolin (fungicides).
Long story short, after only two weeks of using nothing but organic, most of these chemicals had completely disappeared.
Now authorities claim that the amount of each chemical was never above risk level. But there is no long term study taking into account the combined amount of so many different chemicals and what they will do.
I believe these are major causes of many cancers as well as inflammation diseases such as arthritis, type 2 diabetes and cardiovascular diseases (high blood pressure).
Not only that, reliable studies have shown that many of the commonly used or "normal" chemicals cause erectile dysfunction.