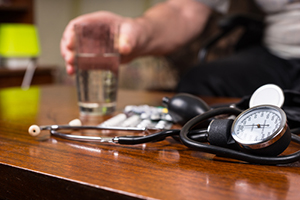 More is not always good, especially when it comes to taking medications to control blood pressure. In fact, it can result in some serious complications as proven by a study conducted in Yale School of Medicine.
Blood Pressure medications cause many devastating complications. The study published in the journal JAMA Internal Medicine, however, notes something REALLY shocking!
In fact, the worst side effects of blood pressure medications, the ones that are most likely to land you in the emergency room, are not put on any warning label.
Blood pressure medications increase the risk of serious injuries due to accidental falling by 30 to 40 percent in elderly people, caused by dizziness and vertigo.
These injuries have almost the same effect as debilitating diseases like heart attack and stroke in functional loss and mortality rate.
For the study, the team of researchers collected data on around 5,000 people over the age of 70, who suffered from high blood pressure. Of these, 14 percent did not take any medications to control blood pressure, 55 percent took moderate amount of medications while 31 percent took several medications to control blood pressure.
The study spanned for three years, and over this period, 446 patients suffered serious injuries like hip fracture or head injury. It was found that those who took medications for controlling blood pressure were at a higher risk of serious injuries compared to those who did not take any medications. More elaborately, 7.5 percent in the no medications group, 9.8 percent in the moderate intensity medication group and 8.2 percent in the high intensity medication group suffered serious injuries.
Falls, in elderly people above 65 years, account for 10 percent of emergency ward visits and 6 percent hospitalization. Decline in activities, restricted movement and need for placement in nursing homes result due to falls and serious injuries.
You don't, however, have to depend on medications alone to bring down your blood pressure. Learn three simple blood pressure exercises and notice the difference as soon as today…