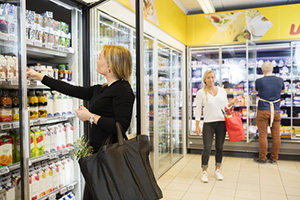 It's a well known fact that an excessive consumption of sugar is one of the leading causes of Type 2 Diabetes.
But the solution that scientists and food manufacturers have devised for this problem is no healthier.
In fact, according to a new study out of Sweden, the ingredient you think you're consuming especially to manage your Type 2 Diabetes, may be exactly what is causing it.
The beverage industry produces diet drinks that contain artificial sweeteners and zero calories to avoid the negative consequences of sugar. But do these actually reduce the risk of type 2 diabetes?
Researchers analyzed the data obtained by ESTRID, an epidemiological study of risk factors for type 2 diabetes, a Swedish population-based study started in 2010.
After excluding people for whom complete information was unavailable, they were left with 1,136 people with type 2 diabetes, and 1,371 without diabetes.
From their analysis, two facts emerged:
1) Those with type 2 diabetes were more likely to drink both sugary and artificially sweetened drinks than their non-diabetic peers.
2) Sugary and artificial sweetened had the same negative effects on Type 2 Diabetes.
People who consumed more than two 200 mL sweetened (sugar or artificial) drinks per day were twice as likely to develop Type 2 Diabetes as those who drank none.
But why do artificial sweeteners cause diabetes? They don't spike your blood sugar level.
You see, they stimulate appetite and lead you to eat more, resulting in weight gain. In addition, previous studies have linked them with increased levels of abdominal fat, the fat most likely to be present in diabetics.
So if you suffer type 2 diabetes, it's not enough to go for a diet cola. Simply skip the sodas altogether and opt for water, lemon or fruit-infused water (mixed at home, not bought), coconut water, nut milk, dairy milk, unsweetened coffee, or unsweetened tea.
And that alone is not enough to completely rid yourself of type 2 diabetes. Follow the lead of thousands of readers and use the 3-steps found here to be diabetes free in 28 days…