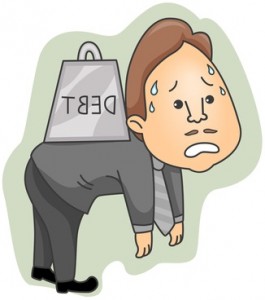 A recent study performed by Northwestern University Feinberg School of Medicine reveals a surprising connection between this very common life circumstance and crippled health.
Researchers discovered that being affected by this ordinary dynamic meant poorer mental and physical health, which resulted in higher risk of cardiovascular diseases like high blood pressure, heart attack and stroke.
The news is quite shocking as most of us are somehow affected by this common cause..
Researchers from Northwestern University performed an unusual study to find out how financial debt impairs our health and well being.
Study participants were 8,400 young individuals, aged 24 to 32. The research was conducted by interviewing study participants to evaluate their overall health state and the amount of their debt (in the range from $250 to $1000)
Their blood pressure measurements were taken and they also underwent psychological and mental health evaluations.
The summarized results of the study revealed that study participants in debt reported unusually high levels of stress and depression, compared to the ones who were debt-free. In addition, their blood pressure measurements showed unexpected increases in both systolic and diastolic numbers.
What is even more interesting is that study subjects with higher amounts of debt than average had at least a 1.3 % higher increase in diastolic blood pressure compared to the study participants who were debt-free or had a lower amount of debt.
This might look as a small number; however, according to researchers, only a two-point increase in diastolic blood pressure is enough to raise the risk of stroke by 15 %!
This study once again proves that stress and anxiety are major causes of high blood pressure.
Unfortunately, we can't turn our backs to the financial obligations. But it is in our power to change the way we look at the situation by not letting it affect us too much.
No matter what kind of stress is causing your high blood pressure, check out this simple three-step system that reverses high blood pressure as soon as today…