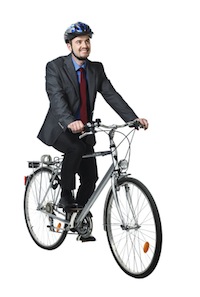 Can you save money, the environment, and your health all at the same time by making only one change in how you live? According to new research from a dual university study in London, the answer is a solid "yes."
And you can do it while traveling to work or other activities.
What is the simple change that can affect so many factors of life, slashing diabetes risk, lowering high blood pressure, and leaving cash in your wallet?
In results of a mega-study involving more than 20,000 participants, researchers from 2 universities in London found a surprisingly simple fix to solving a long list of problems in making only one lifestyle change.
Researchers at University College London and Imperial College London followed thousands of Londoners to see what effect, if any, walking or cycling to work would have on health factors such as high blood pressure, diabetes, and obesity.
What they found was that for people who didn't drive or use a taxi, the rates of obesity fell sharply, and risk of developing diabetes and high blood pressure also dropped significantly, even without making any other lifestyle changes.
Even those who rode public transportation saw health benefits over those who drove.
Given that the cost of owning, maintaining, and operating a motor vehicle can be one of the top annual budget-eaters in a person's salary, as well as the environmental impact a vehicle can have, researchers commented that one of the best ways to save money is also extremely effective in saving health, too.
Live too far away from work to walk or ride? This easy-breezy plan will help you lose weight in no time, for the long haul – without drugs or impossible exercises…
Type 2 Diabetes? Completely reverse type 2 diabetes in 28 days or less…

The most effective way to drop blood pressure to below 120/80 isn't with medications; it's with this proven winner of a plan that has only 3 simple steps…
But first, I'd really appreciate it if you click the Facebook button below and share this articles with your friends. And then, of course, submit your comment below.