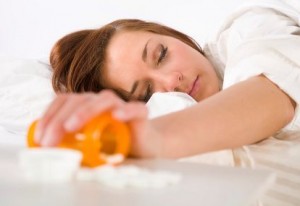 A recent study involving more than 10,000 subjects taking popular sleeping aids was conducted that compared mortality rates (deaths) and use of the drugs in any amount.
What they found was frustrating at the very least, and scary in its extreme.
In a study published in the journal BMJ Open, scientists reviewed the medical records of over 10,000 people with an average age of 54 years old who took prescription hypnotics, or sleep aids.
They compared this group to more than 25,000 people who were on no sleep aid prescriptions for 2.5 years.
What they found was no surprise…after adjusting for issues such as age, gender, ethnicity, co-morbidities (other diseases present), and various other variables, the scientists found that even in the very smallest of doses taken, risk of dying was sharply increased for those taking the sleep aids.
They also found that the risk of dying was directly affected by dosage size and frequency of use.
Trouble falling and staying asleep? This simple trick will have you sleeping soundly in a matter of minutes- safely and without medications…