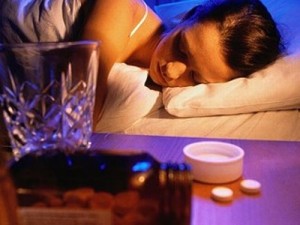 Did you develop insomnia after starting on blood pressure medications? Then you're not alone. One of the most common side effects of a class of drugs for high blood pressure called beta blockers is insomnia.
Many people also suffer insomnia as symptoms of high blood pressure.
Other sleep disturbances are present as well, but insomnia is one of the worst because it perpetuates the high blood pressure cycle.
But researchers are proving once again that a well- known herbal remedy that has been safely used for decades is helping to counteract the effects.
Patients taking beta blockers to reduce their high blood pressure have found, with increasing severity, that an irritating and potentially deadly side effect almost always comes along with the limited pressure-lowering benefits: insomnia
Recent studies show that more than 20 million Americans suffer from insomnia, or the inability to fall asleep or stay asleep.
Sleep disruption isn't just annoying, it can perpetuate the cycle of high blood pressure, locking the patient in a never-ending battle.
However, a safe and well-known alternative is gaining credibility in mainstream medical circles for its proven abilities to help people fall asleep naturally.
Melatonin is the chemical our body produces naturally throughout the day as it uses up serotonin. The daytime chemical- serotonin- breaks down into the nighttime chemical- melatonin- and it is the nighttime chemical that tells the brain and body that it is time to sleep.
Deficiencies in either chemical can spell trouble for anyone, and beta blockers are found to interfere with the process. Less naturally available melatonin in the bloodstream at night means a harder time falling-and staying- asleep.
Melatonin is readily available on most health food and even grocery store shelves and has been proven time and again to be safe and effective at easing the body into a natural sleep pattern, without developing dependencies, and completely safely.
It has a half-life of only about 45 minutes or so, so it can be taken right before bed and wears off very quickly after sleep begins. This, and the fact that it is found naturally in the body already, contribute to it not being something a person could become dependent upon.
Want even more natural, drug-free way to eliminate insomnia as early as tonight…
Completely avoid the side effects and drop your blood pressure without medications using three easy exercises…