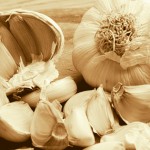 Eat garlic to lower blood pressure.
Is this just a home-grown remedy or a fact? Well… studies show that garlic helps high blood pressure patients to lower blood pressure naturally.
Research from University of Alabama shows that garlic contains a high amount of polysulfides (also known as garlic compounds), which are responsible for the positive effect garlic has in lowering blood pressure.
Interaction between polysulfides and red blood cells leads to the production of hydrogen sulphide. Hydrogen sulphide relaxes blood cells, which subsequently leads to lowering of blood pressure.
Researchers at University of Alabama noted that when rats were fed garlic then their blood vessel relaxation upped by 72% due to the production of hydrogen sulphide.
David Kraus, the lead researcher explains that when polysulfides or garlic compounds are metabolized to hydrogen sulphide, the latter helps muscle cells to relax. He also said that there are lot of benefits in eating a diet rich in garlic and it seems that hydrogen sulphide is the main contributor.
Garlic prevents platelet aggregation
Platelet aggregation is clumping together of platelets in the blood. Platelet aggregation contributes heavily to the buildup of plaques on the arterial walls. Plaques are directly responsible for causing heart attack and stroke, as their presence limits the blood carrying capacity of the arteries.
David Kraus said that the important role polysulfides play in preventing platelet aggregation is well recorded and by preventing platelet aggregation, garlic not only helps in preventing the occurrence of stroke and heart attack, but is also responsible for limiting the progression of various diseases and cancer growth.
Research done at Albert Einstein College of Medicine also reveals that hydrogen sulfide produced from garlic components helps in protecting the heart from cell and tissue damage that is frequently seen in heart attack patients.
Our body produces hydrogen sulfide naturally but the capacity of our body to produce it naturally decreases with age. Consumption of garlic ensures that adequate levels of hydrogen sulfide are maintained in the body and the heart remains strong and healthy.
Besides garlic, onions too assist in preventing platelet aggregation. This behavior of onions was proved by a separate study done at the Queen Elizabeth College of London University. The researchers found that platelets stuck faster after the consumption of high fat, no-onion meal in comparison to high fat meal that included onions.
High blood pressure patients' diet should include a healthy amount of garlic. For best results you can grate garlic and add it to your tea or meal preparation.
All kind of diet and lifestyle changes are great for managing blood pressure. The best method I've however come across are three simple exercises that help most people lower their blood pressure below 120/80 in less than a week. Sometimes the very first day.
Learn more about these simple blood pressure exercises here…
But first, please leave your comment below.