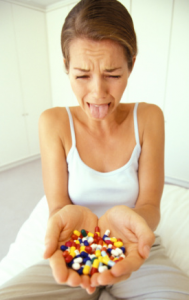 It seems like more and more there are increasing numbers of restaurants, grocery stores, and even skin care companies that are jumping on the gluten-free wagon anymore.
And for good reason- the number of people diagnosed with celiac disease and gluten intolerance has exploded in recent years.
But new research, however, reveals that in some cases the celiac disease symptoms may not actually be celiac disease but side effects of a specific blood pressure medication.
Doctors and researchers looking into gastrointestinal problems that are associated with drugs for high blood pressure found that one in particular seemed to be the culprit in celiac-like symptoms.
A drug called olmesartan has been blamed for causing side effects that are exactly what define celiac disease. Intolerance to wheat gluten, vomiting, diarrhea, gastrointestinal pain…even blunting of the intestinal cilia all occurred after taking the drug prescribed for high blood pressure.
Cases of kidney failure were even documented in some of the research.
Many people feel that side effects to drugs are worth it sometimes, based on the benefit the drug provides. This is usually true for people who haven't found a natural, effective alternative that solves the issue without invasive treatment.
However, severe gastrointestinal distress and kidney failure aren't generally side effects that are considered 'worth it' to lower blood pressure or resolve other problems, especially if safe alternatives exist.
I recommend you check out instead our natural, simple exercises to eliminate high blood pressure starting today…