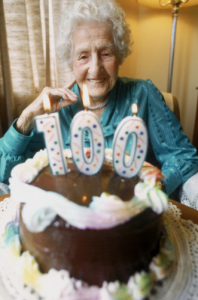 Remember in our twenties how we thought we'd live forever? Everything was possible and nothing could harm us.
In our thirties most of us didn't have much time thinking about life or death or health or wellbeing. We were busy chasing careers, raising children or pursuing our dreams.
It's of course not universal, but I feel it's not really till our later thirties or early forties that most of us begin respecting our own vulnerability. We become aware that we are not quite as quick and our endurance is less than it was in our twenties. And those extra pounds that we added on in the last ten years just seem to not want to come off, even with tremendous effort.
And since we're statistically approaching the second half of our time on earth, we begin to think about what we can do to get a little extension.
That's why today I'm going to teach you 10 scientifically proven things you can do to live longer and healthier:
Make Friends
Now we have one more reason to expand our social circle; it will help you live longer. Researchers analyzing results from 148 independent studies discovered that socially active people outlasted the loners on the average. Another study from Australia followed elderly people for a ten year period and found that social butterflies were less likely to die than those who had fewer friends.
Get Married (especially if you're a man)
Just having friends isn't enough. Repeated studies have shown that married people outlive those who never got married. For some reason this is especially true for men.
And remember the saying "it is better to have loved and lost than never to have loved at all;" well, the results also show that even if you marry and divorce or lose a spouse, you're still more likely to live longer than those who never married.
Have More Sex
This one might be partly linked to the last two factors. Those couples who have a lot of sex can look up to seven years younger than those who have less. They also increase other factors that help longevity such as less stress, better sleep and an overall feeling of more happiness.
But as we get older, things don't always work ask smoothly as they used to. If erectile dysfunction is ruining your sex life, make sure you check out these simple exercises that reverse erectile dysfunction as soon as today…
Be Conscientious
Now gathering friends, partners, enjoying life and increasing intimacy is not all you can do to live longer. Studies have shown that different character types have lower risks of dying young. Being conscientious is the character trait that helps you live longest.
Researchers discovered that conscientious people focus more on things that can improve their health as well as make lifestyle choices that nurture healthier relationships and stronger careers.
Maintain a Sense of Purpose
A Japanese study found that people with a strong sense of purpose were less likely to have stroke or heart attack. Another study from Rush University Medical Center showed that that sense of purpose decreased the risk of developing Alzheimer's disease. Having a strong sense of purpose is especially important when people retire.
Practice Good Hygiene, Especially Oral Hygiene
A study done at the Emory University revealed that those who floss have about 30% lower mortality rate than those who don't. Another study has indicated that flossing adds about seven years to a person's life on the average.
Flossing reduces the risk heart attack, stroke, infection and other diseases. Why? You see, the inflammation that happens in your gums when you don't floss triggers inflammation all over the body- including the arteries.
So if your doctor tells you that there is built up cholesterol in your arteries, try flossing and brushing twice a day for a month and you may experience a noticeable improvement in arterial health.
For more information on improving cholesterol naturally, check out Scott Davis' all natural step-by-step guide to lower cholesterol…
Get Spiritual
A 12-year study among people over 65 found that those who attended religious services had better immune systems and were less likely to die during the period of the study.
Part of the reason might be the strong social connection (the same way as having a lot of friends) that develops among people who worship together. Another reason could be the mindset most religions create, such as forgiveness, that helps reduce stress and stress-related diseases.
Keep Moving
We hardly have to mention it here how important moderate exercise is. Endless studies have shown that the more you move around during the day, the healthier you'll become and the longer you can possibly live.
Even diseases like arthritis that have very little to do with cardiovascular health can be drastically improved with light exercises.
For more tips on improving arthritis, check out our arthritis natural guide here…
Focus on Good Sleep
Try to get a good 7-9 hours of sleep every night. But what is more important than the quantity is the quality. If you fall asleep easily at night and sleep through till the morning and wake up refreshed, you're getting enough sleep. The exact hours differ a lot from person to person.
And maybe just as important as the night sleep is the afternoon nap. A study of 27,000 people revealed that those who take regular afternoon naps are 37% less likely of having a heart attack than those who only occasionally take those naps. It's not being lazy, it's being healthy.
If you're having trouble falling asleep at night or tend to wake up during the night and can't get back to sleep, check out our insomnia program. This simple approach is guaranteed to knock you out in 24 minutes. Learn more here…
Follow a Healthy Diet
It might seem obvious, but then again, how many of us really follow this advice?
The most important element is to reduce the use of heavily processed food such as packaged food and frozen dinners. Load your dish with fruits and vegetables and drink at least 8 glasses of water every day.
If you've already been diagnosed with diabetes or pre-diabetes, you'll want to check out the healthy diet tips in our step-by-step 21 day to beat diabetes guide…
Manage Stress
I believe managing stress may be the most important thing you can do to improve your health and live longer. I don't think anything destroys our health as much as stress.
It's the main cause of high blood pressure, heart attack and stroke. It also weakens our immune system and therefore opens us up for many kinds of diseases from the common flu to cancer.
Remember there are many types of stress and all of us experience stress from time to time. It's when it's ongoing and begins to cause things like high blood pressure that we really have to manage it.
The most effective method I know to eliminate stress and cure high blood pressure at the same time is Christian Goodman's blood pressure exercise program. Thousands of readers have reported a drastic drop in their blood pressure the very first time they used the exercises.
Check out the blood pressure exercises here…
So there you have it, my top ten things you can do to live longer. And if you were counting, you noticed, I actually mention 11 things ?
But probably the most important thing you can do is not something that adds years to your life. The most important thing is to make the most of every minute, every day. Let each moment count. Because it isn't really about how much time we have but what we do with it.
Now it's your turn. What did I leave out? Please share your insight in the section comment below.