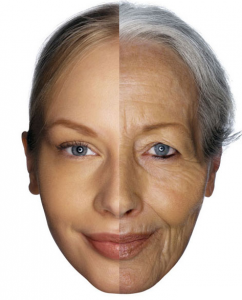 Is there a single reason why these levels creep into the danger zone with age? Most doctors will tell you no… that there are simply too many other variables that accompany aging that will affect blood pressure, cholesterol, sexual performance, metabolism, etc.
But are they right?
As the body ages, several of the processes that used to run smoothly, like circulation and digestion, tend to begin to encounter some blips along the way. Arteries harden, plaque builds up, foods we used to be able to eat suddenly begin to betray us.
In fact, hundreds of studies are done each year looking at the effects of aging on everything from hair to hemoglobin.
Doctors maintain that what ends up happening when people study one element of aging, such as hormone production, and its effect on blood pressure or other health issues, is that several other variables wind up polluting the process.
While it is true that variables such as hormone levels, development of food intolerances, concurring disease processes and other issues make the study look like a huge, messy Venn diagram when displayed for examination, the truth is they don't have to.
Dwindling hormone levels will have an effect on an enormous number of processes in the body. This is true. That kind of biological stress on the body kicks a cascade of domino effects into motion.
Another disease process can complicate things, such as Type II Diabetes pushing blood pressure levels upward or liver disease making cholesterol levels go haywire. Again, there is a biological stressor that seems to accompany these problems, and these are things that will affect anyone…not just people who are getting older.
So what gives? And what comes first…the chicken or the egg?
The easy answer is that it really isn't aging in and of itself that causes all these problems. It is stress.
Stress on the body comes in a variety of forms: emotional, environmental, biological, and so on.
But what is at the root of most of these stressors? The majority of time it is our choices. How much pollution we allow in our space, what kinds of foods we eat (or don't eat), how active we are, and even our outlook on life can be choices that affect our aging body much more than the passing of time.
The stress of inflammation on the body is directly tied to what we choose to do or not do to ourselves. This is not really news. The distinction is made, however, when this inflammation worsens over the years and starts causing several problems that can each make the others worse….like an ugly cycle.
The fact that this typically happens parallel to our aging timeline is what pushes researchers to thinking that as we age we should come to expect (and accept) problems like high blood pressure, a sluggish metabolism, dwindling sex drive and high cholesterol.
The truth is, though, that there are a LOT of seniors out there…millions in fact…that have controlled for the "variables" that feed the cycle over the course of their whole lives and as a result have the bodies to prove it. At the same time, there are 9-year olds with heart disease because of 9 years' worth of terrible food choices on the caregivers' parts.
So why should high blood pressure and bad cholesterol be any different? They aren't. While it's true that the occurrences of these diseases increase with age, it's because of the stress that accompanies variables we can control that is primarily responsible for their existence…not the age of the person experiencing them. Any kind of un-checked stress over time is going to add up. It's cumulative power over time is what makes getting older look like the bad guy.
One method to reverse this process is what Christian Goodman calls "focused break". His Blood Pressure Exercises work as reboot button for our nerve system and therefore permanently drop blood pressure down to normal. You can read more about his Blood Pressure Program here…
Scott Davis uses a little different approach to lower cholesterol. He focuses on minor lifestyle changes that make major difference in tackling cholesterol stress on the body. Learn more about his cholesterol method here..
But what about process that affect people that are simply due only to age?
Menopause is a good example of a process that is natural, though, and pretty much unavoidable. However, the complications that come with it can actually be effectively controlled with the right balance of natural therapies.
Symptomatic severity is not even something that is tied to aging. It's generally tied to inflammation…again, as a result of long-term unchecked stress on the body over a long period of time. And as many as 24% of women don't even know they have entered menopause until they notice they are skipping menstrual cycles. So this process is one that doesn't have to be painful or miserable.
You can learn more about my natural methods to eliminate problematic symptoms of menopause here…
Erectile dysfunction can be the same way. A lot of lifestyle factors, piled up over the course of several decades can be a direct cause of ED. But Andropause, or the phase of life when a man's testosterone levels would naturally begin to diminish, will happen eventually to all men.
But the only real key to how late in life this starts and how hard it's going to hit is the stress that the body is under- again from controllable sources- and how long this stress is allowed to leave its cumulative mark.
Let us know your thoughts on this topic. Leave your comments below and join the discussion…