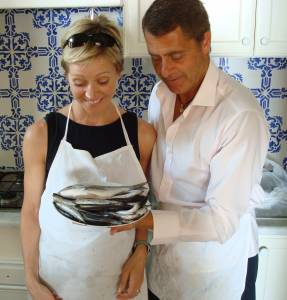 Scientists have shown over recent years that a handful of well-known minerals are the key to naturally reducing high blood pressure. However, they have also seen that supplements for these very important players, while helpful, are not nearly as powerful as getting them from the foods we eat.
In today's feature article, we'll look at the minerals that are vital to blood pressure health and the 5 foods that work double-and even triple-duty to provide them, all the while including little to no negative nutritional baggage.
The four most important minerals for shoving high blood pressure down to where it belongs are:
- Potassium- This electrolyte is critical in balancing sodium in the body. An excess of sodium from over-processed foods in the diet has a terrible effect on the body. Adding a deficiency of Potassium makes it worse. Supplementing with this can be tricky, so do the safe thing and get it from food.
- Magnesium- This mineral is vital to so many processes in the body, including blood pressure, digestion, muscle health and respiration that a thousand pages can be written on this one alone. Most people, however, are deficient and don't even know it- especially those who have bowel diseases that involve frequent diarrhea.
- Calcium- Not just for bone health, calcium deficiencies have contributed to muscle and joint problems, connective tissue diseases, and blood vessel deterioration. Since blood pressure is the force of the blood against the vessel walls, any degradation of that tissue creates disaster for blood pressure health.
- Zinc- Free radicals wreak havoc all over the body; inside and out, on every system in some way. On the circulatory system, free radicals create inflammation and lead to stenosis, or hardening of the arteries. Zinc is like a search and destroy feature. Its antioxidant properties eliminate the free radicals and restore electrical balance throughout the body.
Sure, you can get these minerals in an electrolyte beverage or in tablets from the health food store, but in order to actually metabolize them and get them to be absorbed into the body at the highest efficiency you have to take the supplements with food.
If you are going to be eating anyway, why not save yourself the expense and just eat the minerals to begin with?
One cup each of the top 5 super-duty foods that work overtime to get these minerals into your body can be rally filling spread out over the day with other foods you like.
They are also found listed on most of the medical diets, such as those restricting sodium, carbohydrates, processed foods, and meat.
- Swiss Chard- This leafy green is packed with nutrients and is great steamed or in salads. Aside from the fiber benefits inherent to all leafy greens, this one will actually give you 28% of your daily potassium needs and 38% of magnesium requirements.
- Oysters- These are good baked, steamed, and smoked, and a little bit goes a long way. Six oysters provide a whopping 750% of the DRV for zinc and almost 30% of magnesium needs. They are also really high in copper and iron, which are needed for heart health.
- Yogurt- This food isn't on diets restricting dairy, but if you can have it, you should definitely be eating a couple servings of this every day. In just 1 cup, you'll get 49% of your recommended calcium needs, along with zinc (16%), magnesium (12%), and potassium (18%). There are low-cal varieties all over the marketplace if you are watching your sugar.
- Sardines- Even though this little gem is relatively high in sodium, the benefits outweigh the risk, especially considering there are low-sodium varieties available now. You can also eliminate a good portion of the sodium with a simple soak listed below. One cup of sardines packs a walloping 135% of the RDV for magnesium, along with 57% calcium needs. The Omega-3 benefits are incredible, too.
- Rice Bran- This great grain is extremely low in nutritional sodium while also being a great source of fiber. A cupful provides the recommended daily value of 50% for potassium, 48% for zinc, and an incredible 230% for magnesium.
Use the rice bran as a way to reduce the sodium in the sardines. Coat the bottom of a baking dish with rice bran or rice bran flour. Then line the flour with rinsed sardines. Cover the whole thing with milk and soak overnight. Then, rinse the sardines again and pat them dry.
Toss them in a salad including Swiss chard and top with a creamy yogurt-based dressing to include a few items from the list of super-duty foods.
Diet changes and other lifestyle changes are always recommended when lowering blood pressure. The simplest and easiest method I however know, the method that has worked for thousands of my clients, are my easy blood pressure exercises. Try them out here…
Do you have ideas for including these foods in tasty ways into your everyday diet? What's your favorite food to lower blood pressure? Make your comment below.