Supplement and Prescription Interaction- A Bad Brew?
by Christian Goodman | August 19, 2011 11:30 pm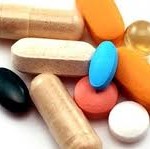 Back to the reader files we go with this installment of our Natural Health Blog. Readers and clients write in a lot concerning what they are taking and when with respect to their prescription drugs, and they almost always will go on to disclose a supplement (or five or ten) they are also taking.
Sometimes, we find that folks are using the natural, herbal world to make their nutrition a more complete picture. Other times they are taking something that helps to correct a disease process that is a result of a deficiency, as with iron, calcium, or vitamin D shortages.
But occasionally, we come across disclosures that raise a flag, as in the cases relating to people who are on serious prescription drugs and also supplementing from nature with highly concentrated herbal supplements or mineral compounds.
Many times, there are no interactions. In fact, some herbal supplements actually help a drug to be either better absorbed or to be more effective. An example might be people taking fish oil capsules as well as hormone replacement regimens (whether natural or herbal).
Far too frequently, though, a supplement will have a dangerous interaction with a prescription drug, and this is generally because of "too much of a good thing" or a duplicating effect.
An example here may be taking St. John's Wort for boosting your mood while you are also taking a prescription serotonin reuptake inhibitor. Most bottles for both products warn about the interaction, but some medicine-herb packaging might not.
Another place where trouble brews is where prescription blood thinners and supplements or spices meet. Curry powder and cayenne pepper are natural blood thinners, and when taken as an extract or a super-concentrated capsule, can pose a clotting problem.
This can occur anywhere in the body where blood vessels happen to be…such as the brain, heart, and other vital organs.
Or, you may be taking an herb or other product that renders the prescription drug either completely useless or makes it less available for receptors.
An example here would be the "grapefruit effect" that occurs when people eat grapefruit or take an extract and they are also taking a statin drug for cholesterol. Properties in the grapefruit and extracts destroy an enzyme that is critical for the statin drug to be metabolized.
That is also an example where many times there will be warnings on the labels of the drug and/or the packaging of the extract.
But what about the interactions that aren't as famous?
Take, for example, the simple, yet effective multivitamin. The capsules generally include a wide variety of vitamins and minerals, and are in a chemical makeup such that it is easily absorbed.
But if a prescription drug is also being taken that has many of the same properties, this can be a real problem.
Iron in a standard multi-vitamin is great, and in a high enough amount that the general public would really benefit from. But if you are also taking a prescription calcium bicarbonate (or even an over the counter one) the iron will not be absorbed.
Vitamins or drugs not absorbed and used by the cells of their intended tissues will wind up in the filtration system, namely the liver and the kidneys.
Sometimes, this can be such an insult they just shut down.
The point to this is not to say you should stop taking your prescription medicines. It is more a call to action to talk to the doctor and/or pharmacist about everything you are currently taking. Not just pills he or she doesn't know another doctor may have prescribed, but also supplements your herbalist recommends for you.
The dynamic that unfolds to create this is not typically forgetfulness. Usually, it is embarrassment.
Consider this: A person doesn't want the doctor to know he or she is taking ginko, for example, because he is afraid the doctor will shoot it down as so much quack nonsense, but the person taking it knows the proven benefits.
He also does not tell his herbalist that he is taking Coumadin, a blood thinner, since he doesn't want her knowing he relies on "big pharma" to get by.
The end result to this made up scenario could possibly be death due to hemorrhagic stroke. This is because of the "too much of a good thing" as it is proven that ginko tends to interfere with the normal clotting of the blood, something which Coumadin is prescribed to do on purpose, anyway.
It might get you a lecture from one or the other (or both) providers, but the lecture and subsequent dosage adjustment might just save your life.
There is nothing wrong with looking at all the layers of comprehensive treatment that goes with treating high cholesterol, problems sleeping, or chronic pain.
The problems arise when you fail to tell your prescriber that not only do you prefer natural treatments, but you are also currently involved in their uses.
Let us know if you have had problems with interactions. The advice you give may help someone and keep him or her from making a mistake in what they ingest, inject, or inhale.
For more information on programs for conditions listed above, click on any of the program links to the right of the page.
Warm regards,
Christian Goodman
El331005
But first, I'd really appreciate it if you click the Facebook button below and share this articles with your friends. And then, of course, submit your comment below.
Source URL: http://blueheronhealthnews.com/site/2011/08/19/supplement-and-prescription-interaction-a-bad-brew/
---