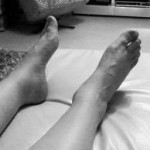 Frequently, the visitors to our site are people who are on a certain treatment plan, but they are disappointed with the results of it.  This disappointment can range anywhere from the ineffectiveness of the pill to the side effects that tag along.
Many times it is both, but one complaint that we hear a lot rests solely in side effects: The medicine makes my ankles swell.
This is not an uncommon side effect. In fact, a quick review of the warning labels of ten of the most commonly prescribed blood pressure medications reveals that all carry a warning on the label of swollen feet or ankles and to alert the doctor when it occurs.
Calcium channel blockers are the most common culprits when ankle swelling is a problem.
Swollen ankles are no picnic. Any pregnant woman will tell you that.  It's not that it is terribly painful, but it is definitely uncomfortable and really unsightly.
One reader described her and her husband's experiences with edema, which is the medical term for fluid retention in the extremities.  
She said just looking at her feet and ankles reminded her of a water balloon with lines drawn on for toes.
His ankles looked like tubs of gelatin as he walked. The skin would stretch and get itchy, and they were both embarrassed to wear sandals but socks were too uncomfortable.
His problem was his blood pressure medicine and hers was hormonal. Neither cause is something that should be ignored.
This reader explained that her husband knows just enough about an internet search 'to be dangerous.' He looks up a variety of issues, lands on a page that describes what he is looking for, and stops there.  In the case of his ankles, he searched for a possible cause and hit pay dirt when he saw the name of his medicine listed as an offender.
What she describes after that was kind of scary.  He decided that he would stop taking his medicine to see if his swollen ankles would improve. He didn't tell her he was going to do this, he just launched into this experiment on his own.
His ankles quit swelling, but predictably his blood pressure shot through the roof.
The problems with this are staggering. When you stop taking a maintenance medication, your body cries out from the withdrawal.
Whatever condition you were taking it to treat will flare back and you are left with the consequences that, in the case of blood pressure medications, can include dizziness, fainting, stroke, or other very dangerous effect.
She called the doctor to "tattle on him," and he was seen immediately.  Their situation was a lucky one because he was able to be treated before the assault of stopping his medications did any mortal harm.
The problem with edema in the feet and lower leg is that it may indicate a bigger problem that is developing elsewhere.  
Only a doctor or trained healthcare provider can diagnose what is really causing edema in your specific case, and experimenting with medications isn't recommended.
For instance, swollen ankles can be caused by more than just a medication problem. As mentioned earlier, her swelling ankle problem was a treatable hormone issue.
Medications like steroids and anti-depressants can cause edema, and treatments for erectile dysfunction are typically also problematic.
However, other causes can be more serious. Failing kidneys or heart, blood clots in the lower leg, and liver problems are potentially deadly, but sometimes treatable conditions that should be checked by a medical professional. Sometimes it is just a simple blood test that can rule these things in or out.
Be ready for a ton of other questions, and maybe keep a little journal of when you notice the swelling.
Your provider is going to know that what, when, where, why and how of all of that, and might ask you questions like, do you also have a fever, is it one leg or both, what makes it worse, and does elevating it help…those kind of things.
But don't be like our reader's husband and experiment with medications. His situation could have easily turned out badly. If different medication is what you are after, or better yet, none altogether, then let your doctor know. Have the serious conversation, take your notes, and go from there.
For an effective, natural way to drop your high blood pressure, try my Hypertension No More program and get started on a natural path to wellness today.
Warm regards,
Christian Goodman
el331005