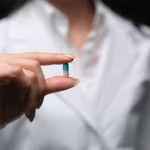 This statement occurs so much it leaves me wishing I could have a dime every time someone mentions it.
Some of my own staff have even said variations of it from time to time.
While I understand the sentiment, it does concern me a lot since a licensed health care provider someone who can accurately diagnose health conditions. Someone off the street or in a health food store is not someone who can do that.
That said, it can be very frustrating when you are trying to live according to healthy, natural rules and your doctor hands you a prescription sheet after spending 45 seconds with you. Does he or she even really understand the issue? Does he or she respect my wishes to try natural methods first?
Only you can answer this, and the only way is to develop a better communication channel with your provider. Avoiding even seeing the doctor is the opposite of this.
Many times people write in with their frustration of the tendency their provider has with reflexively reaching for the prescription pad to ink out some pill regimen. When this happens, we are faced with 3 choices:
- Agree with the doctor, fill the prescription, and take the pills, accepting blindly any side effects that come along for the ride
- Disagree with the doctor and not tell him or her, refuse to fill the prescription and possibly suffer an even worse outcome
- Disagree with the doctor and advocate for a better, more natural and healthy treatment alternative
Drugs can alleviate a lot of problems, but only if taken properly. Non-compliance is actually listed as a drug 'misuse' problem for the Centers for Disease Control and the Department of Health. They also carry frustrating or even dangerous side effects, which is one key factor for non-compliance in the first place.
This scenario can leave a person with a "rock and a hard place" kind of feeling. And for what? Because our doctor doesn't listen to us? Or how about maybe that we haven't tried hard enough to get our message across.
I do understand that insurance limitations and economic factors play a role in how easy it is to "fire" your doctor if you aren't happy, but you might be surprised at how easy it is to do just that.
If you feel that you just can't leave your physician, then honesty will get you a lot further than agreeing to a course of treatment and then not carrying it out.
Your doctor may already suspect that you are not complying with the prescribed treatment plan, especially if you keep appearing in the office with the same treatable, chronic problem.
So why not just have out with it if you know you won't take the drugs? Your doctor deserves to know when your non-compliance may endanger your life. And you deserve for him or her to try harder to find an acceptable alternative.
The only way this can happen is to be honest and open up that very candid dialogue.
A friend of mine said once, "My doctor is so stubborn. He thinks he's God or something and that his opinion about my health is the only one that matters." There is a little bit of truth to his thinking in the vein of having had many years of advanced training and experience…so his opinion is very valuable.
But that's where the truth in his statement ends. She acknowledged that she is a very important player on the healthcare team because it's HER health. She finally up and told him, "Look, Doc, I appreciate where you are coming from but the 'cure' is worse than the disease. I absolutely will not take those pills. What else ya got?" this was in reference to a migraine issue she had been having for a very long time.
Sure enough, he said something to the effect that he suspected she was going to eventually say that and put it back on her to understand fully what that refusal means. It means that while there alternatives, she is the one who has to do the work to make them effective, which was part of her problem.
Honesty is an uncomfortable thing. It forces the lines of communication to be awkwardly open and in this case makes it a 2-way street. She knew that if she stood up to him on her behalf, that he likely would, too. And he did. He detailed the laundry list of things that were causing problems for her, and even had a lot of patient education materials related to treating migraine naturally.
He had never offered it before…she wasn't ready before. But the honest announcement of "not gonna take the pills" was the sign that she actually was ready.
The point to all this is that you can decide you don't like a treatment plan, but you also have to decide to do the right thing and tell your doctor. Be open to the truth about your condition; even if that means you have to change something significant in your life. It might be easier than you think, though.
For an easy and effective program to help alleviate your migraine pain, see my natural plan today.
Warm regards,
Christian Goodman
El331005