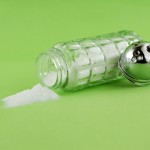 Did you know that 11.1 million cases of high blood pressure could possible be prevented every year if Americans adhere to normal levels of sodium intake?
High sodium intake is one of the most common causes of high blood pressure. While maximum daily sodium intake is 2,300 milligrams, on average an American daily eats 3,400 milligrams of sodium. By cutting the sodium intake to permissible limits, Americans can reduce their total health care expenditure by $18 billion.
Excessive sodium intake and high blood pressure
Excessive sodium intake disturbs the body's state of equilibrium. When we eat high amount of salt, our kidneys fail to process all of the salt. As a result of which, the excessive salt is pushed in the bloodstream.
To counter the salt presence in the bloodstream, our body allows more water to flow in the bloodstream. And it is the extra water added in the bloodstream which leads to high blood pressure.
While you may add less salt in your meal preparation to cut down the sodium intake, the fact of the matter is that if you often eat out then you are likely to be consuming sodium in excessive amounts. Processed foods, as well as food served in restaurants typically have high sodium content. Studies show that processed foods account for more than 70% of sodium in the typical American diet.
Food that have high sodium content
If you are a high blood pressure patient then you need to completely avoid processed foods. Processed foods are high on salt content and should be avoided or at best consumed in moderate amounts by people who even have normal blood pressure.
Names of the some of the common foods that have high sodium content are: salsa, bacon, cold cuts, condiments, soup, and pickles. Avoid these foods and when eating out, check if low-sodium options are available. Further, when buying processed foods always read the contents before purchasing the product. Don't take "low sodium" content declaration on the canned food at its face value – some low sodium processed food, in fact are loaded with sodium.
Is sodium bad for our body?
No, our body requires sodium to perform various functions normally. It is the excessive sodium present in our body that is harmful. While our body's daily requirement of salt is 500 milligrams, most folks consume 10 times more than this.
Eat healthy and exercise regularly to control blood pressure
Avoid processed food and cook your own meal to ensure that you do not consume more than required amount of salt. Also, eat more wholesome foods, such as fruits, nuts, vegetables, legumes, and fresh meat.
Regular exercise helps in reducing total cholesterol and bad cholesterol levels, as well as assist in reducing the plaque buildup.
To learn about the exercises that can help you in blood pressure management, see our high blood pressure exercises guide.
You may also be interested in checking out natural high blood pressure information here.
EL331015